Planning a wedding? Choosing the perfect dress is key! Materials play an important role. From chiffon to satin, there are plenty of options. Let's take a look!
Silk is often thought of as luxurious and elegant. It's soft and has a lustrous appearance. Crepe de chine and charmeuse are popular for wedding gowns.
Then there's lace. Brides have loved it for centuries. It's delicate and romantic. Chantilly and Alençon lace add timeless beauty.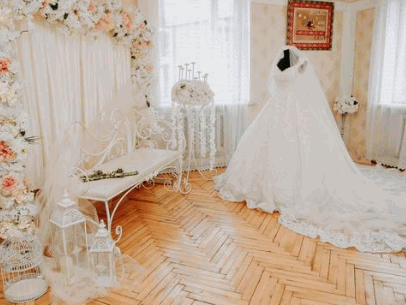 Tulle is great for ball gown styles. It's light, creating voluminous skirts. It adds an ethereal touch to the overall look.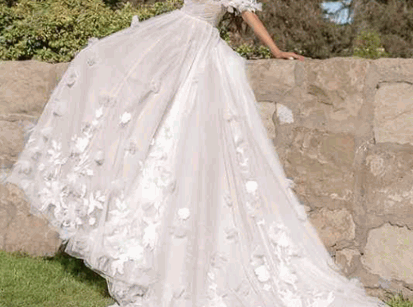 Satin is also a popular choice. It's glossy and luxurious. It drapes beautifully on the body, creating an elegant silhouette.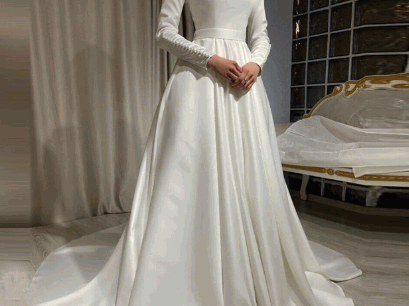 Pro Tip: Consider your personal style, season, and level of comfort when selecting material. Don't forget to try on different fabrics during dress fittings!
Common Wedding Dress Materials
Silks, like satin and charmeuse, are the ideal materials for wedding dresses. They have a luxurious feel and glittery look that brides-to-be love. Lace is also common, adding elegance and detail. Tulle is sheer and light, making it perfect for veils. Organza offers a crisp texture and voluminous skirts. Last but not least, chiffon has a soft flow that suits different dress styles.
These materials not only look amazing, but they are comfortable too. Silk is breathable and smooth. Lace is both flexible and pretty. Tulle is lightweight and lets you move easily.
When it comes to unique details, satin brings out strong colors. Lace can be used as an overlay or appliques. Tulle can be gathered or ruffled for volume. Organza keeps its shape well. Chiffon drapes effortlessly.
Silk has been linked to luxury since ancient times. Empires like China's Tang Dynasty and Rome's Byzantine Empire wanted it for its rarity and quality. Lace was favored by European royalty because of its intricate patterns and beauty.
When picking your wedding dress material, remember to consider not only the design but also the fabric that will make you feel like a queen on your special day.
Factors To Consider When Choosing Wedding Dress Material
Your wedding dress material is so important! Here are five key points to keep in mind:
Comfort: Choose a lightweight fabric like silk or chiffon that allows you to move and breathe throughout the day.
Style: Pick a fabric that best reflects your desired aesthetic. Satin and lace for classic elegance, or tulle and organza for a romantic vibe.
Durability: Taffeta or mikado silk are great choices for a dress that will last.
Weather: Select fabrics like crepe or georgette for warm-weather weddings, or velvet or brocade for colder ones.
Care: Consider how easy it will be to clean and care for the fabric after the big day.
Each material has its own unique qualities that can make your gown even more special. Speak to a bridal consultant to help you decide. Start exploring options today!
Uncover more: What Desserts Are Good For Weddings
Care Instructions For Different Wedding Dress Materials
Wedding dresses come in many materials, each needing special care to stay beautiful and long-lasting. Follow these tips:
Silk: Dry clean. Store in a cool, dry place.
Lace: Hand wash with mild soap and lukewarm water. Squeeze out water and lay flat to dry.
Tulle: Spot clean with fabric cleanser. Don't machine wash or dry clean.
Chiffon: Hand wash with cool water and mild detergent. Hang to air dry, avoiding sunlight.
Satin: Dry clean. Iron on low heat, using a pressing cloth.
For other dress materials, get advice from a professional cleaner.
Good care means your dress will stay perfect even after the wedding!
Fun fact: Harper's Bazaar says silk is the most popular wedding dress material because of its sheen and classic look.
Conclusion
Satin is the one fabric that reigns supreme when it comes to wedding dress materials. Its smooth and glossy surface adds a touch of elegance to any gown. , its lustrous look catches the light beautifully, making the bride shine on her special day.
Plus, satin provides endless possibilities for designers to create different styles. Whether it's a sleek mermaid dress or a romantic ballgown, this fabric can mold itself into any shape.
Another reason satin is favored by many is its comfort factor. It's soft against the skin and ensures utmost comfort – all the while exuding luxury.
When it comes to its history, satin dates back to ancient China. It was made from silk fibers and only worn by royalty and nobles. Later, polyester fibers were used to make it more affordable for everyone.