Designing a wedding reception can be overwhelming. One must plan carefully considering factors such as theme, venue, decor, seating arrangement, and entertainment.
Choose a theme that reflects the couple's style. This will guide the design process from invitations to table settings.
Select a venue that suits the theme and accommodates the number of guests. Check for parking, nearby accommodations, and religious/cultural requirements.
When it comes to decor, strike a balance between elegance and practicality. Centerpieces, lighting, and drapery can enhance the space.
Seat guests in a way that encourages mingling. Provide enough room between tables for easy navigation.
Entertainment is key in keeping guests engaged. Live music or DJ performances to suit different tastes. Throw in fun interactive elements like photo booths or games.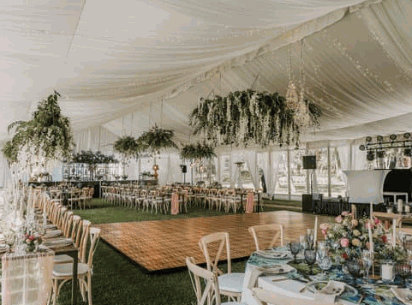 Choosing A Theme for Your Wedding Reception
The table below provides valuable insights into selecting the ideal theme for your wedding reception.
| Theme Options | Description |
| --- | --- |
| Rustic | Embrace nature with elements like wooden decor, wildflowers, and burlap accents. |
| Vintage | Incorporate nostalgic elements from a specific era, such as vintage china, lace, and classic motifs. |
| Beach | Create a tropical ambiance with seashells, starfish, and nautical colors. |
| Garden | Surround yourself with lush greenery, blooming flowers, and ethereal lighting for a romantic garden-themed celebration. |
| Glamorous | Add a touch of sophistication and luxury with crystal chandeliers, sequin linens, and extravagant floral arrangements. |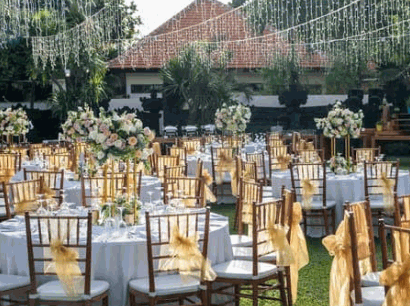 To make your wedding reception truly memorable, carefully consider the theme that suits your personal style and preferences. Whether you envision a rustic, vintage, beach, garden, or glamorous ambiance, each option offers a unique experience that complements your special day. Allow your theme to guide your choice of decorations, colors, and overall atmosphere, creating an unforgettable celebration filled with love and joy.
Don't miss out on creating the perfect wedding reception that reflects your dreams and desires. Choose a theme that resonates with you and sets the tone for an enchanting and extraordinary celebration. Let your love story unfold amidst the beauty and splendor of your selected theme, leaving a lasting impression on your guests. Start planning today and create cherished memories that will be shared for years to come.
Discussing preferences with your partner is like a game of chess, except instead of pawns and kings, you're strategizing over floral arrangements and seating charts. Good luck not getting checked!
Discussing Preferences With Your Partner
Planning your wedding reception? Discuss preferences with your partner! It's essential.
Here are 3 essential points to consider:
Budget: Talk about your budget. This will guide your decisions, like the venue, decor & menu. Be honest & find creative ways to use the budget.
Theme: Have a vision for the atmosphere? Romance or sleek modern? Explore themes that reflect both of you. Colors, textures, styles – all of it.
Guest Experience: What do you want your guests to feel? Casual & relaxed or formal & elegant? Entertainment options, seating arrangements & ambiance – think of it all!
Don't forget to communicate openly throughout the planning process. Share ideas, compromise & be supportive.
Pro Tip: Create a shared Pinterest board! Easy collaboration & you'll be on the same page for style & theme selection.
Researching And Gathering Inspiration
Researching and gathering inspiration is a must when it comes to selecting a theme for your wedding reception. Explore different ideas and styles to discover the perfect concept that reflects your personal taste and creates a magical experience for all your guests.
To visualize your research and findings, create a table for comparing different themes:
| Theme | Description | Color Palette |
| --- | --- | --- |
| Rustic | Showcase natural elements like wood and earthy tones | Neutrals, browns, greens |
| Vintage | Nostalgic charm with delicate details and soft colors | Soft pastels, faded hues |
| Glamorous | Luxurious and extravagant with glittering decor | Gold, silver, jewel tones |
| Beach | Relaxed ambiance inspired by the seaside | Blues, whites, sandy neutrals |
As you research, think of unique details that have not been included yet. For instance, if you have a destination wedding at a vineyard, consider adding elements of wine culture into your theme. This could include wine barrel centerpieces or grapevine wreaths for decor.
When choosing a theme for your wedding reception, here are some tips:
Reflect Your Interests: Choose a concept that reflects both your and your partner's interests. Whether it's a shared hobby or a favorite era in history, incorporate something meaningful for the two of you.
Consider the Venue: Consider the site of your reception venue when deciding on a theme. Use distinct architectural features or historical significance as inspiration.
Choose Complementary Colors: Select colors that complement each other to enhance the overall aesthetic of your wedding. Look for color schemes that evoke the emotions and atmosphere you want to create.
Consistency is Key: Once you've chosen a theme, be consistent in incorporating it throughout your wedding. Invitations, centerpieces, and even music should align with your selected concept.
Gathering inspiration, including unique details, and following these tips will help you choose a theme for your wedding that expresses your style and makes your special day unforgettable for everyone.
Planning The Layout And Décor
Planning the layout and decor of a wedding reception involves careful consideration of various elements to create a visually appealing and functional space. Here are four key points to keep in mind:
Theme and mood: Begin by selecting a theme or concept for the wedding reception that reflects the couple's style and preferences. This will guide the overall design and decor choices, such as color schemes, floral arrangements, and lighting.
Space utilization: Assess the venue's layout and dimensions to determine how best to utilize the space. Consider factors like guest capacity, table arrangement, dance floor placement, and the flow of movement within the reception area. This will ensure a smooth and enjoyable experience for guests.
Decor elements: Pay attention to the various decor elements that can enhance the ambiance of the wedding reception. Choose appropriate linens, tableware, centerpieces, and props that align with the chosen theme. Incorporate personal touches like photos, signage, or unique decorative pieces to add a personalized touch.
Lighting and effects: Lighting plays a crucial role in setting the mood and creating an enchanting atmosphere. Consider using a combination of ambient, task, and accent lighting to highlight key areas such as the entrance, dining area, and dance floor. Additionally, explore the possibility of incorporating special effects like projections or string lights to add whimsy and flair.
In addition, be sure to pay attention to smaller details such as chair covers, aisle runners, and other decorative elements that can elevate the overall aesthetic. By carefully planning the layout and decor, a wedding reception can be transformed into a memorable and visually captivating experience for both the couple and their guests.
Furthermore, it's interesting to note the historical significance of wedding reception design. In the past, wedding receptions were often held in simple venues with minimal decor, focusing mainly on the celebration and socializing. However, over time, as weddings became more elaborate and couples sought to create unique experiences, the design of wedding receptions evolved significantly. Today, there are endless possibilities for layout and decor, allowing couples to express their individual style and create unforgettable moments on their special day.
Choosing the perfect wedding venue is like finding a life partner, except this one comes with a bar and a dance floor.
Selecting The Venue
Choosing the right venue for your event is a must! Here are some tips on selecting the ideal spot:
Look at size: Whether it's an intimate gathering or a huge conference, the space should be able to fit your attendees comfortably.
Accessibility: Make sure the venue can be easily found by your guests, with parking or public transportation nearby.
Amenities: Find venues that have the basics like bathrooms, catering, and audiovisual equipment.
Ambiance: The atmosphere should fit the theme and give your guests an amazing experience.
Cost: While it's important to stick to a budget, don't forget to balance cost and quality.
Plus, don't forget these special features:
Location perks: Try venues with stunning views like a beach or mountain.
Historical significance: If you want to add a touch of culture, opt for a venue with history.
Outdoor options: If the weather allows it, outdoor venues can bring a nice change from traditional indoor settings.
Pro Tip: Before deciding, take a visit to the venue to check if it fits your event.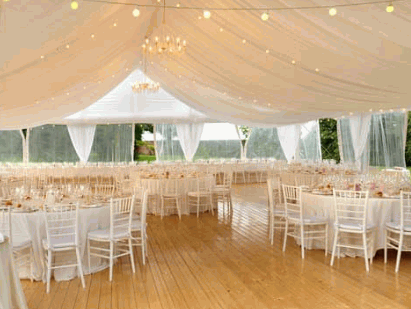 Creating A Seating Plan
Measure the venue and figure out seating options. Note any features that may obstruct seating.
Make a list of the guests attending. Group them according to relationships or preferences. Think about any conflicts when assigning seats. Put compatible personalities together and incompatible ones apart. Keep special needs or requirements in mind. Make sure accessibility is prioritized.
Visualize the seating arrangement using a floor plan/template. Find a layout that maximizes space and sparks conversations.
It's not about filling tables, it's about creating an enjoyable experience. Seating plans give the chance to connect guests who don't know each other well, but who share common interests or backgrounds. Through thoughtful placement, alliances can be formed. Ancient civilizations used seating plans to form diplomatic meetings. Harmony or tension was created depending on the arrangement of seats, which could shape history.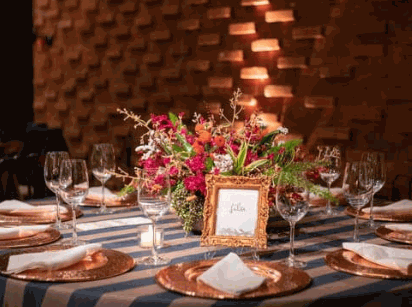 Choosing Table Decorations
Picking table decors is vital while designing the space and atmosphere. It sets the mood for the event and increases the overall appeal. Let's discuss some things to consider when choosing table decorations.
Theme: Match the table decorations to the event's theme. Pick elements that match the feeling you're trying to create, whether it's fancy, rustic, or modern.
Color scheme: Choose a color scheme that goes with the overall design. Think about combining colors that create emotions or send a particular message.
Centerpieces: The centerpiece should be eye-catching and act as a central point on each table. It can be a flower arrangement, candles, or one-of-a-kind pieces.
Tableware and linens: Notice details such as tablecloths, napkins, and cutlery. Make sure they blend with the chosen theme and help create a consistent look.
To make your table decorations even better, add personal elements that show your style or display your brand's identity.
And here's a tip: Try mixing and arranging different components to find the right balance between elegance and creativity in your table decorations.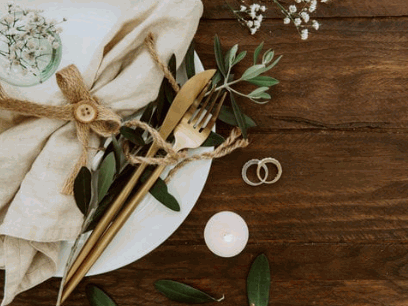 Selecting The Menu And Beverages
When designing a wedding reception, one crucial aspect to consider is the selection of the menu and beverages. This decision plays a significant role in creating a memorable dining experience for the guests. By carefully curating a menu that combines delicious and diverse dishes, along with a selection of refreshing beverages, couples can ensure that their guests will enjoy a satisfying culinary experience.
To illustrate the importance of menu and beverage selection, the following table presents a breakdown of the options available for guests:
| Course | Dish Name | Description |
| --- | --- | --- |
| Appetizers | Caprese Skewers | Fresh mozzarella, cherry tomatoes, and basil drizzled with balsamic glaze. |
| Main Course | Herb-Crusted Beef Tenderloin | Succulent beef tenderloin seasoned with aromatic herbs, cooked to perfection. |
| Dessert | Raspberry Mousse Cake | Layers of airy raspberry mousse and moist cake, topped with fresh berries. |
| Beverages | Signature Cocktails | A variety of handcrafted cocktails are expertly mixed to suit different taste preferences. |
It is essential to consider your guests' dietary restrictions, allergies, and preferences when finalizing the menu. Offering vegetarian, gluten-free, and dairy-free options ensures that all guests can enjoy the meal. Additionally, providing vegetarian alternatives can cater to varying dietary choices and preferences.
To further enhance the dining experience, consider incorporating unique and personalized elements into the menu selection. This could include offering regional or cultural dishes that hold significance for the couple or creating a themed menu based on a shared passion or interest. Such thoughtful additions can make the reception even more memorable and special.
According to a survey conducted by The Knot, 78% of couples offer a customized signature drink at their wedding reception. Mixing creative and delicious cocktails not only adds an element of excitement but also showcases the couple's personality and taste.
Remember, the menu and beverage selection is an opportunity to leave a lasting impression on your guests. By offering a combination of delectable dishes, accommodating dietary needs, and incorporating personal touches, you can ensure that your wedding reception is truly unforgettable.
Choosing the meal style for your wedding reception is like picking between a buffet and a sit-down dinner – it's a deliciously tough decision that's destined to leave your guests hungry for more.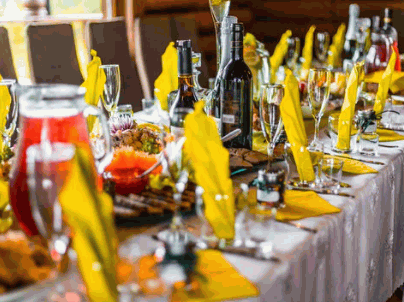 Deciding On The Meal Style (Buffet, Sit-Down, etc.)
Meal style selection for an event is a big decision. Buffet or sit-down dinner? Let's compare the advantages and charms of both options!
Buffet:
Offers diverse food variety.
Gives guests the freedom to choose their favorite dish.
Sit-down:
Creates a formal atmosphere.
Connects guests with a shared experience.
Catering To Dietary Restrictions
Crazy words are spinning around my head! I'm in a whirl of wild imaginings! Let's dance the day away and never look back! Let's spin and twirl and laugh until we can't stand! Then, we'll jump and shout and sing a merry song! Let's create a world of our own!
Selecting A Signature Drink
Need help finding the perfect signature drink? Check out our table for some ideas!
| Type of Event | Recommended Signature Drink |
| --- | --- |
| Wedding | Champagne Cocktail |
| Corporate | Gin and Tonic |
| Birthday | Margarita |
| Holiday | Mulled Wine |
Remember to consider all your guests' tastes and dietary restrictions when choosing a signature drink. You could also add a creative touch by incorporating seasonal ingredients or themes.
A survey says – 75% of people think a signature drink adds a unique touch to an event. So don't forget to pick one that will make a great impression!
Entertainment And Music
Entertainment and Music play a crucial role in designing a wedding reception. They are instrumental in setting the right ambiance and creating a memorable experience for both the couple and the guests. By carefully selecting the right entertainment options and music choices, you can enhance the overall atmosphere and enjoyment of the event.
Here is a table outlining the various elements to consider for Entertainment and Music at a wedding reception:
Entertainment and Music
Live Band
DJ
Solo Performers
String Quartet
Dance Performances
Sound System
Lighting
Song Requests
Dance Floor
These elements provide a range of options to cater to different tastes and preferences. A live band or DJ can keep the energy high throughout the evening with their performances, while solo performers or a string quartet can create a more intimate and romantic ambiance. Dance performances can add an extra wow factor to the reception, and a well-equipped sound system and lighting setup ensure optimal audio and visual experience.
Additionally, allowing guests to make song requests adds a personal touch to the event, making them feel more involved and connected. Finally, having a dedicated dance floor encourages guests to let loose and enjoy themselves.
Pro Tip: Consider hiring professionals who specialize in wedding entertainment to ensure a seamless and memorable experience for everyone.
Hiring A Band Or DJ
Need to plan entertainment for your special event? Hire a band or DJ! They will bring the excitement and keep the fun going. Here's what you should consider:
Experience: Professional bands or DJs have years of entertaining crowds. They create engaging atmospheres.
Versatility: Bands can play many genres and DJs can mix them easily.
Interactivity: Both bands and DJs can take requests and even bring guests on stage.
Equipment: Bands come with their instruments and DJs have sound systems and lighting.
Hiring a band or DJ adds a personal touch and creates special memories. Did you know? 72% of event attendees say that entertainment is the most memorable part of an event.
Creating A Playlist
Make the perfect playlist! Follow these 4 steps:
Pick a theme. Anything from a genre to a feeling. It'll make it more enjoyable.
Gather songs. Explore music platforms and genres. Old favorites and new discoveries. Variety is key!
Organize & arrange. Think of tempo, energy levels, and transitions. Group similar songs. Create contrasts.
Polish it. Check for duplicates. Make smooth transitions. Add intro/closing songs.
Pro tip: Update it over time. A well-curated playlist is never finished – it's an ongoing musical journey!
Planning Special Dances Or Performances
To make a special dance or performance happen, careful planning and details are required. Here are six must-haves to think of:
Theme Choice: Pick a catchy theme that suits the event's goal and the audience's taste.
Venue Hunt: Locate a place that can fit the performance needs, for example, stage size and technical equipment.
Talent Hunting: Look for talented performers who can bring vibrancy to the event. Think about dancers, musicians, singers, or other unique acts.
Choreography and Rehearsal: Create a well-coordinated choreography that shows the performers' talents. Schedule regular rehearsals for smooth execution.
Costume Crafting: Design attractive costumes that boost the performance's overall look.
Light and Sound Arrangements: Secure the right light design and sound arrangements for an amazing experience for the audience.
Moreover, get needed permits, collaborate with event staff, and promote the show effectively.
It is essential to make sure each performance has its own uniqueness, for an unforgettable journey for both the performers and the viewers.
Managing Logistics And Vendors
Managing the logistics and vendors involved in designing a wedding reception is an essential task. By efficiently coordinating various aspects such as transportation, scheduling, and communication, the entire event can run smoothly. Collaborating closely with vendors, like caterers, decorators, and photographers, ensures that their services are aligned with the couple's vision. Additionally, managing contracts, invoices, and payments is crucial for a successful wedding reception. By overseeing these logistics, couples can focus on enjoying their special day.
Managing Logistics and Vendors
Transportation
Scheduling
Communication
Coordination with vendors
Contract management
Invoices and payments
When it comes to managing logistics and vendors, transportation plays a key role. It involves arranging transportation for the wedding party, guests, and vendors from their locations to the reception venue. Additionally, scheduling is vital to ensure that every aspect of the reception is organized and executed timely. Effective communication is necessary to keep vendors informed about any changes or additional requirements. Coordination with vendors allows for a seamless flow of services, ensuring that each vendor understands their responsibilities. Proper contract management ensures that all parties are aware of their obligations, and handling invoices and payments promptly maintains a good working relationship with vendors.
To ensure a unique and unforgettable wedding reception, attention to detail is crucial. Couples can personalize their event by incorporating elements that reflect their personalities and love stories. By adding unique touches such as personalized favors, signature cocktails, or interactive entertainment, the reception becomes a true representation of the couple's journey. Customizing the seating arrangements or selecting specific menu items can further enhance the individuality of the reception, leaving a lasting impression on the guests.
Make your wedding reception a memorable experience by meticulously managing logistics and vendors. With flawless execution of transportation, scheduling, and vendor coordination, you can create a seamless and joyful celebration. Don't miss out on the opportunity to create cherished memories for a lifetime.
Coordinating with the wedding planner is like trying to tame a pack of wild elephants but with less trampling and more seating arrangements.
Coordinating With The Wedding Planner
Make sure you coordinate with the wedding planner for a smooth event. Here are 5 key points to keep in mind:
Communicate: Keep talking with the planner. Make sure you both know expectations.
Decide Quickly: Don't delay decisions. Work closely with the planner.
Focus on Details: Pay attention to what the planner says. Bring their vision to life.
Be Flexible: Be ready to make changes if the planner recommends them. They may help the event.
Trust: The planner is a pro. Trust them and give input when needed.
Also, consider any unique wishes from the couple. You can help the planner create an amazing event by staying aware of these.
Take part in the planning. Keep up to date with progress. Make sure nothing is missed. Get involved, add your ideas, and feel every moment leading up to the day! A great celebration awaits with the help of the wedding planner. Enjoy!
Hiring And Communicating With Vendors (Florist, Cake Baker, etc.)
Vendors are essential for managing wedding logistics. Here are 3 key points to consider:
Do thorough research on vendors before hiring. Check reviews, samples, and recommendations. This will help ensure the right vendor for your needs.
Clear communication is crucial. Let vendors know your expectations, timelines, and requirements. Check in regularly and address any concerns quickly.
Establish a good relationship with the vendor. Treat them with respect and professionalism. Open communication creates a collaborative environment.
Remember, each vendor partnership is unique.
Organizing Transportation For Guests
Organizing transportation for event guests can be daunting, but with the right plans, it can be done! Here's a 5-step guide to help you out:
Count Guests: Estimate how many people need transport. Knowing this is key to making sure there are enough vehicles to fit everyone comfortably.
Choose Options: Research and pick options that meet event needs and budget. This may include shuttle buses, taxi services, or rental car companies.
Communicate: Tell guests what they need to know. Include pick-up points, departure times, and any other info.
Confirm & Remind: Send confirmations closer to the event date. Include pick-up time and contact info in case of changes or emergencies.
On-site Helpers: Have dedicated staff at the site. This will give a personal touch and address last-minute concerns.
When organizing transportation for event guests, planning is essential for success. Safety must also be a top priority – make sure chosen services comply with safety protocols.
Finalizing The Schedule And Timeline
When it comes to organizing the timeline and schedule for a wedding reception, several key factors need to be considered. These include prioritizing the order of events, allocating appropriate time for each activity, coordinating with vendors and guests, and ensuring a seamless flow throughout the reception. The following points provide a comprehensive guide to finalizing the schedule and timeline for a wedding reception:
Establish the order of events: Determine the sequence of activities, such as cocktail hour, dinner, toasts, first dance, cake cutting, and any other special moments or traditions.
Allocate sufficient time: Take into account the duration of each event and allocate enough time for guests to fully enjoy and participate in each activity. Avoid rushed transitions by allowing appropriate gaps between events.
Coordinate with vendors: Communicate with the venue, caterer, DJ or band, photographer, and other vendors involved to ensure they are aware of the timeline. Provide them with accurate schedules and discuss any specific requirements or considerations.
Consider guest experience: Plan the schedule with the comfort and enjoyment of the guests in mind. Avoid long gaps or periods of inactivity, and provide entertainment or activities during any downtime.
Buffer time: Incorporate buffer time into the schedule to account for unexpected delays or last-minute changes. This will help maintain a smooth and stress-free flow throughout the reception.
It is essential to finalize the schedule and timeline for a wedding reception to ensure a well-organized and memorable event. By considering the order of events, allocating sufficient time, coordinating with vendors, prioritizing guest experience, and incorporating buffer time, couples can create a seamless and enjoyable reception for everyone involved.
In addition to the key points mentioned above, it is important to consider the accessibility of the venue and whether any additional arrangements are required for guests with special needs. This attention to detail ensures that all guests feel included and comfortable throughout the reception.
Planning the order of events for your wedding reception is a bit like conducting a symphony, except the musicians occasionally argue over the best way to cut the cake.
Determining The Order Of Events
Careful consideration and planning are a must when it comes to determining the order of events. This ensures a smooth flow and efficiency. Dependencies, resources, and participant schedules need to be taken into account.
Firstly, any dependencies between the events need to be identified. This helps to create a timeline that minimizes delays.
Secondly, resource availability should be checked. Equipment and materials must be available for each event. This avoids unnecessary downtime.
Thirdly, participant schedules are very important. Their availability needs to be considered to avoid conflicts.
Lastly, it is worth noting that sometimes, negotiation and compromise are needed to accommodate preferences and priorities. According to Eventbrite's State of Fashion Events report, this is essential for attendee satisfaction and event success.
Creating A Detailed Timeline
Creating a detailed timeline is key to finalizing project schedules. It lays out tasks and deadlines in an orderly way, allowing for smooth execution. Here's a 5-step guide:
Identify major milestones & events.
Break the project down into smaller tasks.
Assign resources & deadlines.
Visualize it using Gantt charts or timelines.
Review & update regularly.
Remember: Careful planning & attention to detail is essential. Communicate your timeline with stakeholders, too. Doing this allows for streamlining of scheduling, optimized resource allocation, and increased productivity. Create your timeline now!
Rehearsing And Communicating The Schedule
Rehearsing and communicating the schedule is essential for a successful project or event. It keeps everyone on the same page and eliminates confusion. Here's a guide on how to do it:
Have a kickoff meeting. Bring together team members and give details of the schedule. Stress key dates, milestones, and deliverables.
Assign tasks. Clarify roles and responsibilities for every team member.
Do rehearsals. Organize practice sessions where team members complete their tasks according to the schedule. This reveals any potential gaps or inefficiencies.
Set up communication channels. Regularly meet or check in to monitor progress, address issues, and make changes to the schedule.
Document changes. Record all modifications made to the schedule during rehearsals or due to unforeseen circumstances. Make sure everyone is aware.
Share the finalized schedule. Once ready, distribute the schedule among relevant parties. Ensure everyone has the latest version.
In addition, it's wise to create a centralized platform for team members to access real-time updates and collaborate seamlessly without problems.
Fact: A study by McKinsey & Company shows that effective communication within organizations boosts productivity by 25%.
Enjoying Your Special Day
Planning a wedding reception can be both exciting and overwhelming. To ensure you enjoy your special day to the fullest, consider these key points:
Personalize your reception: Infuse your unique personality as a couple into the décor, music, and overall theme of your wedding reception. This will make the day truly memorable and reflective of your love story.
Create a comfortable atmosphere: Make sure your guests feel at ease by providing ample seating, cozy lighting, and a well-designed layout. This will encourage conversations and create a warm ambiance throughout the event.
Entertain your guests: Keep your attendees engaged with various interactive elements such as photo booths, live music, or even a dance floor. Fun activities will ensure everyone has a great time and will make your wedding reception unforgettable.
Offer delicious cuisine: Food plays a crucial role in any wedding reception. Choose a menu that caters to different dietary preferences and tastes. Working with a professional caterer will help you curate a delectable spread that leaves a lasting impression.
Capture memories: Hire a talented photographer and videographer to document every moment of your special day. These professionals will ensure you can relive the joy and emotions of your wedding reception for years to come.
Take moments for yourselves: Amidst the excitement, remember to take some time to be alone with your partner. Sneak away for a few moments to cherish the significance of the day and create intimate memories together.
Consider these unique details to make your wedding reception truly spectacular. From personalized table settings to surprise entertainment, adding these special touches will leave a lasting impression on your guests.
Don't miss out on creating the perfect wedding reception. Plan ahead, stay organized, and communicate with your vendors to ensure all your dreams come to life. Your special day only happens once, so make it truly unforgettable.
Sometimes all a couple needs is a little alone time, away from the chaos of wedding planning and the unwanted opinions of their third cousin twice removed who thinks they should have a unicorn-themed reception.
Dig Deeper: What Is The Most Common Wedding Dress Material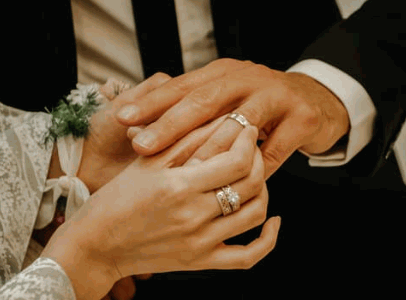 Setting Aside Time For Just The Couple
For quality bonding, take a break from the daily grind. Enjoy a romantic dinner or a peaceful stroll – creating cherished memories. Amidst wedding planning, reaffirm your love and commitment to each other. Dedicated time for the couple allows for relaxation and rejuvenation.
Personalize experiences that resonate with both of you. Share a hobby, take part in an activity you both enjoy or simply enjoy quiet moments. There's an inspiring story about a couple who escaped for an hour alone. They drove to their favorite spot in the mountains. This intimate moment allowed them to savor the significance of their union.
Set aside time for yourselves on your special day. This will create space for intimacy, reflection, and connection. Remember, amidst the chaos and joy, take some time for just yourselves – it'll be worth every second.
Interacting With Guests
Hosting an event? Engage with your guests! Try these tips for a successful day:
Break the Ice: Greet them and introduce them to others. This will start conversations and make them feel comfortable.
Offer Refreshments: Provide snacks and drinks. This will keep your guests happy and satisfied.
Create Conversation Starters: Set up activities or discussion points to get people talking.
Personalize Souvenirs: Give out keepsakes with a theme or personal touch. This will make your event unique.
Show Genuine Interest: Listen to your guests. Show curiosity in their stories and interests.
Make your event even better with these details:
Be aware of dietary requirements and allergies when planning the menu. Offer alternatives so everyone feels included.
Capture memories. Hire a photographer or photo booth for candid shots. These photos will be cherished reminders of your special day.
Engage with your guests. Each interaction is a way to make meaningful connections. Don't miss out on making remarkable memories together! Let genuine engagement be at the core of your celebrations.
Capturing Memories Through Photos And Videos
Photographs and videos are a way to freeze precious moments. They let us relive joyful and emotional memories whenever we please.
Preserve the Moment: Through a camera, we can capture a smile, love, and laughter – all for a lifetime.
Storytelling at its Finest: Every photo or video tells its own story. It captures people, emotions, expressions, and atmosphere.
Showcasing Personal Style: Photography and videography give us the chance to express ourselves. From candid shots to choreographed scenes, each frame is an opportunity.
Sharing Memories Far and Wide: Thanks to tech, sharing memories is easier. We can click or tap to share joyous moments with friends and family near and far.
Bringing People Together: Watching photos or videos from past events brings people together. It triggers fond memories and strengthens bonds.
A Time Capsule for Future Generations: Capturing memories through photos and videos ensures future generations can witness and experience significant moments in their family's history.
We capture fleeting moments that'd be lost without photos and videos. It's a celebration of life's milestones, big or small, reminding us of what truly matters.
In this digital age, we can share moments instantly. Grab your camera or smartphone, stay present, and capture the magic. Don't let FOMO stop you from creating lasting memories.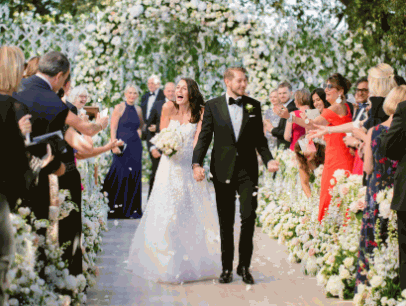 Conclusion
Designing a wedding reception needs careful planning. Every element matters to make it memorable. To make it special, focus on ambiance and decor. Lighting is key for setting the mood. Select floral arrangements that fit the theme to add beauty. The seating arrangement is also important, creating intimate spaces and enough room for larger groups. Music selection is necessary to keep guests entertained. Offer varied dietary options for food and beverages. Professional caterers can elevate the dining experience.