Welcome, dear readers! Are you tired of your messy and uninspiring bedroom? Do you feel like your dressing table is just a cluttered mess? Worry not, because in this article, we will share with you some amazing dressing table ideas that will transform your bedroom into a stylish and functional space. Say goodbye to the chaos and hello to a beautiful, organized dressing area.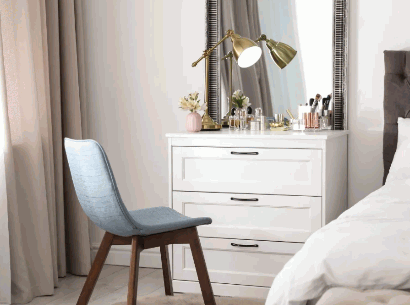 What Is A Dressing Table?
A dressing table is a furniture item commonly found in bedrooms, designed for the purpose of personal grooming and preparation. It typically consists of a table with a mirror and may also feature drawers or compartments for storing makeup, jewelry, and other personal belongings. This piece of furniture provides a designated space for daily beauty routines, including applying makeup, styling hair, and arranging accessories. Not only does it serve a functional purpose, but it also adds aesthetic appeal to a room, giving individuals a specific area for self-care and self-expression.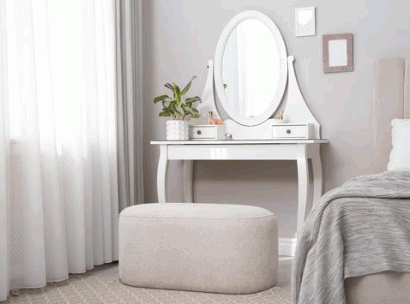 Why Have A Dressing Table In Your Bedroom?
A dressing table is a versatile and functional piece of furniture that can elevate the look and feel of any bedroom. In this section, we will discuss the reasons why having a dressing table in your bedroom is a great idea. From adding a touch of luxury to providing a designated space for getting ready, a dressing table has many benefits. We will also explore how it can help keep your room clutter-free and even serve as a multipurpose desk or vanity.
1. Adds A Touch Of Luxury
Having a dressing table in your bedroom can add a touch of luxury and elevate your overall aesthetic. Here are some steps to consider when incorporating this luxurious element:
Choose a dressing table that enhances the luxury of your bedroom's style and theme, whether it's modern, vintage, rustic, or functional.
Consider your storage needs and opt for a dressing table with drawers or shelves to keep your essentials organized.
Measure your space to ensure the dressing table fits perfectly and doesn't overcrowd the room.
Pay attention to mirror and lighting options, as these can enhance your grooming routine and add a glamorous touch.
By following these steps, you can create a stylish and luxurious dressing table setup that perfectly suits your bedroom.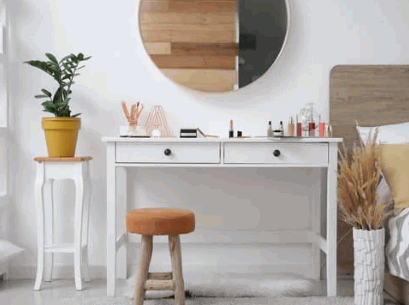 2. Provides A Dedicated Space For Getting Ready
A dressing table in your bedroom provides a dedicated space for getting ready, helping to streamline your morning routine and enhance your overall grooming experience.
Step 1: Clear the clutter – Ensure that your dressing table is clean and free from any unnecessary items.
Step 2: Arrange your essentials – Organize your makeup, skincare products, and accessories in a way that is easily accessible and visually pleasing.
Step 3: Personalize the space – Add decorative elements such as a small vase of flowers or a scented candle to create a calming and inviting atmosphere.
Step 4: Optimize lighting – Make sure your dressing table is well-lit, either with natural light or with adjustable vanity lights, to ensure proper visibility.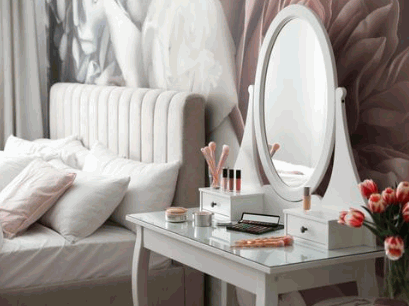 3. Helps Keep Your Room Clutter-Free
A dressing table can help you keep your room clutter-free by providing a designated space for organizing and storing your beauty and grooming essentials. Here are some tips to help you maintain a tidy room:
Utilize the drawers or compartments in your dressing table to store smaller items such as makeup brushes, hair accessories, and skincare products.
Use dividers or organizers to separate and categorize different items, making it easier to find what you need.
Hang a mirror on the wall or attach one to your dressing table to free up tabletop space and avoid clutter.
Keep larger items, like hair dryers or curling irons, neatly stored in a dedicated section or drawer.
Fact: Keeping your room clean and clutter-free can promote relaxation and a sense of calm, helping you start your day on the right note.
Dig Deeper: Best Bedroom Carpet
4. Can Double As A Desk Or Vanity
A dressing table has the ability to serve as both a desk and a vanity in your bedroom, making it a versatile and space-saving piece of furniture. This allows you to use the table for various purposes, such as getting ready in the morning, applying makeup, working on your laptop, or completing other tasks. This feature is particularly advantageous for those with limited space or those who prefer multi-functional furniture.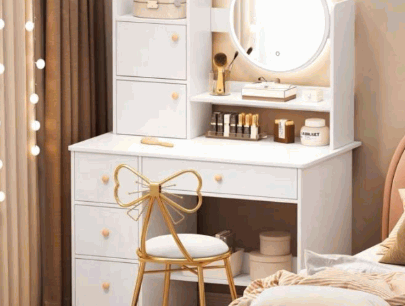 What Are Some Popular Dressing Table Designs?
When it comes to choosing a dressing table for your bedroom, there are endless design options to consider. However, some styles have risen above the rest in terms of popularity and functionality. In this section, we will discuss the most popular dressing table designs and what makes them stand out. From modern and minimalist to vintage and glamorous, there is a design for every taste and bedroom aesthetic. So let's dive in and explore the top dressing table ideas for your bedroom.
1. Modern And Minimalist
A modern and minimalist dressing table can bring a sleek and contemporary touch to your bedroom decor. To create one, consider these steps:
Choose a dressing table with clean lines and a minimalist design.
Opt for a neutral color palette, such as white, black, or gray, to maintain a modern and minimalist aesthetic.
Select furniture with slim and sleek profiles to maximize space and achieve an uncluttered look.
Add discreet storage solutions that seamlessly blend with the overall design.
The modern and minimalist design movement originated in the early 20th century, influenced by the Bauhaus School of Design. This style focuses on simplicity, functionality, and clean lines, rejecting excessive ornamentation. Its emphasis on minimalism and sleekness has made it a popular choice for contemporary dressing table designs.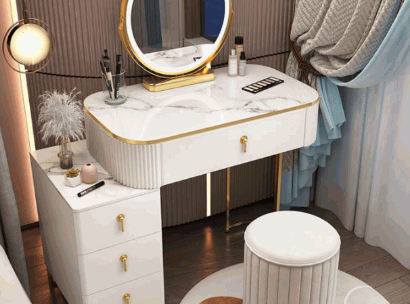 2. Vintage And Glamorous
A vintage and glamorous dressing table design adds a touch of elegance and nostalgia to your bedroom decor. This type of dressing table typically features ornate details, such as intricate carvings, curved edges, and antique finishes. Some popular vintage and glamorous dressing tables include those with mirrored surfaces, velvet or tufted upholstery, and decorative drawer pulls.
To achieve a vintage and glamorous look, consider adding a vanity chair with plush cushioning and a vanity mirror with intricately designed frames. Complete the look with accessories like vintage perfume bottles, crystal jewelry trays, and a delicate lace table runner.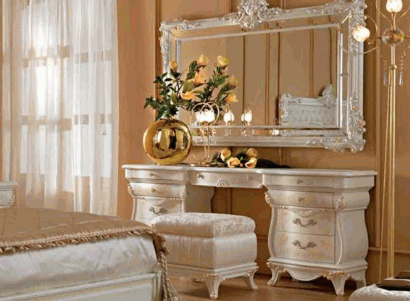 3. Rustic And Natural
A rustic and natural dressing table design can bring a warm and organic feel to your bedroom. Here are some steps to create this style:
Select a dressing table made from reclaimed wood or with a distressed finish for a rustic and natural look.
Opt for earthy and neutral colors like browns, beiges, and greens for the table and accessories.
Incorporate natural elements like woven baskets, wooden trays, and potted plants to add texture and a sense of nature.
Choose simple and minimalistic designs with clean lines to maintain the natural aesthetic.
Consider adding a vintage mirror or antique-inspired lighting fixtures to enhance the rustic and natural charm. Don't forget to personalize the space with your favorite natural-inspired decor items, such as seashells, feathers, or dried flowers.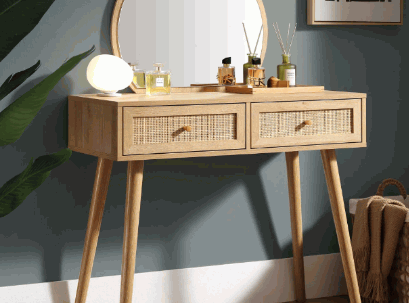 4. Functional And Space-Saving
A practical and space-saving dressing table is the perfect option for smaller bedrooms or those who want to maximize their space. These designs often include built-in storage compartments, like drawers or shelves, to assist in keeping your beauty essentials organized and easily accessible. Furthermore, some space-saving dressing tables may even have a foldable or extendable mirror, allowing you to save even more space when not in use. The compact size and clever design of these dressing tables make them an ideal and stylish solution for those seeking a dedicated vanity area without compromising valuable floor space.
How To Choose the Perfect Dressing Table For Your Bedroom?
The right dressing table can elevate your bedroom's style and functionality, but with so many options available, it can be overwhelming to choose the perfect one. In this section, we'll break down the key factors to consider when selecting a dressing table for your bedroom. From the overall style and theme of your bedroom to your storage needs, we'll cover everything you need to know to find the ideal dressing table. So let's dive in and discover how to choose the perfect dressing table for your bedroom.
1. Consider Your Bedroom's Style And Theme
When selecting a dressing table for your bedroom, it's crucial to take into account the style and theme of your room. Follow these steps to help you make the perfect choice:
Evaluate the overall style and theme of your bedroom. Is it modern, traditional, or bohemian?
Take note of the color scheme in your bedroom. Choose a dressing table that complements the existing colors.
Consider the materials used in your bedroom furniture. Match the dressing table material to maintain consistency.
Take into consideration the size and layout of your bedroom. Make sure the dressing table fits comfortably without overcrowding the space.
By considering your bedroom's style and theme, you can choose a dressing table that seamlessly blends with the overall aesthetic of your room.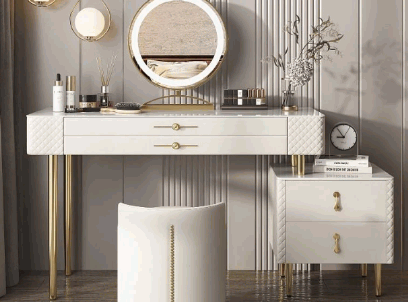 2. Think About Your Storage Needs
Assess your storage requirements: Consider the number and size of items you need to store, such as cosmetics, hair tools, and accessories.
Determine the type of storage: Decide if you prefer drawers, shelves, compartments, or a combination to accommodate your belongings.
Consider organization features: Look for dressing tables with built-in dividers, trays, or hooks to keep items neatly organized and easily accessible.
Optimize space: If you have limited space, choose a dressing table with vertical storage options or consider a wall-mounted or foldable design.
Think about your future storage needs: Anticipate any potential changes in your storage needs, such as acquiring more items or decluttering, and select a dressing table that can adapt to those changes.
When choosing a dressing table, keeping your storage needs in mind will ensure that you find a functional and practical solution for organizing your essentials.
3. Take Measurements Of Your Space
When selecting the perfect dressing table for your bedroom, it is crucial to accurately measure your space to ensure proper fit and functionality.
Measure the available area: Use a measuring tape to determine the width, depth, and height of the designated space for your dressing table.
Consider surrounding furniture: Take into account the placement of other furniture pieces, such as beds, wardrobes, or chairs, to ensure there is enough clearance and a harmonious layout.
Account for doors and windows: Note the location and swing of doors and the position of windows to avoid any obstructions or interference with the dressing table.
Think about walkways: Ensure there is ample space to move around comfortably without any obstacles, allowing easy access to drawers and compartments.
4. Consider The Mirror And Lighting Options
When selecting a dressing table, it is crucial to consider the mirror and lighting options in order to create a functional and visually appealing setup. Here are some steps to assist you in making the right choices:
Determine the appropriate size and shape of the mirror that complements your dressing table and room style.
Take into account the placement of the mirror to ensure proper lighting and visibility while preparing.
Choose suitable lighting fixtures, such as vanity lights, wall sconces, or a lighted mirror, to provide sufficient illumination.
Opt for adjustable lighting options to customize the brightness and color temperature according to your preferences.
By thoughtfully considering the mirror and lighting options, you can elevate the functionality and ambiance of your dressing table area.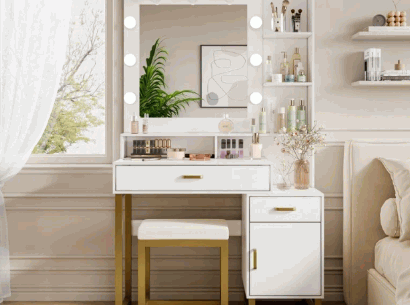 What Are Some Creative Ways To Decorate Your Dressing Table?
Your dressing table is not just a functional piece of furniture, but also a reflection of your personal style and taste. In this section, we will explore some creative ways to decorate your dressing table and make it a beautiful focal point of your bedroom. From adding personal touches with photos and artwork to incorporating plants for a natural touch, these ideas will elevate your dressing table to the next level. We will also discuss using trays or baskets for organization and displaying your favorite perfumes or jewelry for a luxurious touch.
1. Add A Personal Touch With Photos Or Artwork
Enhance your dressing table with a personal touch by incorporating photos or artwork that hold special meaning to you.
Select images that inspire you or bring back happy memories.
Choose frames or display methods that complement the style of your dressing table.
Arrange the photos or artwork in a visually pleasing way, taking into account size and balance.
Utilize decorative accessories such as mini easels, stands, or clips to showcase the photos or artwork.
2. Incorporate Plants For A Fresh And Natural Look
To add a fresh and natural touch to your dressing table, incorporate plants by following these simple steps:
Choose Suitable Plants: Opt for small indoor plants such as succulents, ferns, or peace lilies that thrive in low-light environments.
Select the Right Containers: Consider using small, decorative pots or planters that complement the aesthetic of your dressing table.
Strategically Place the Plants: Add visual interest and create a calming atmosphere by positioning the plants strategically.
Provide Proper Care: Keep your plants healthy by ensuring they receive adequate sunlight, water, and occasional fertilization.
Pro-tip: If you have limited space, consider using hanging planters or wall-mounted containers to incorporate plants without taking up valuable table space.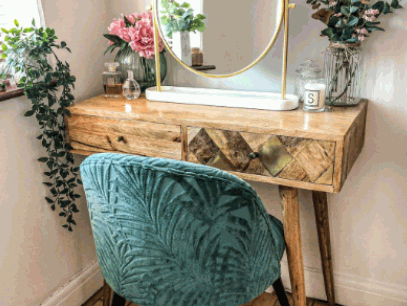 3. Use Trays Or Baskets For Organizing Accessories
Using trays or baskets for organizing accessories on your dressing table can greatly improve the efficiency and appearance of your space. To effectively use trays or baskets for organizing accessories, follow these simple steps:
Sort your accessories: Begin by grouping similar items together, such as earrings, bracelets, necklaces, and watches.
Select appropriate trays or baskets: Choose trays or baskets that are the right size and style to accommodate your accessories.
Assign a tray or basket for each category: Use separate trays or baskets for each type of accessory to keep them organized and prevent tangling.
Arrange accessories in a visually pleasing way: Neatly place your accessories on the trays or in the baskets, ensuring they are easily visible and accessible.
Label or categorize trays or baskets: For even more organization and efficiency, consider labeling or categorizing each tray or basket.
Consider additional organizers: Utilize smaller compartments or dividers within the trays or baskets to further separate and organize your accessories.
Maintain regular organization: Make it a habit to periodically go through your accessories and reorganize as needed to keep your dressing table clutter-free.
4. Display Your Favorite Perfumes Or Jewelry
When it comes to displaying your favorite perfumes or jewelry on your dressing table, here are some steps to consider:
Organize: Use decorative trays or small bowls to keep your perfumes or jewelry organized and easily accessible.
Showcase: Arrange your collection in a visually appealing way, such as grouping items by color or size.
Utilize stands or holders: Invest in stands or holders specifically designed for holding perfume bottles or displaying jewelry.
Consider lighting: Adding a small table lamp or string lights can help highlight your favorite pieces.