Are you tired of stepping onto a cold, hard floor in the morning? Are you looking for a way to add warmth and comfort to your bedroom? Look no further, because a high-quality bedroom carpet may be just what you need. In this article, we will explore the benefits of choosing the best bedroom carpet for your home.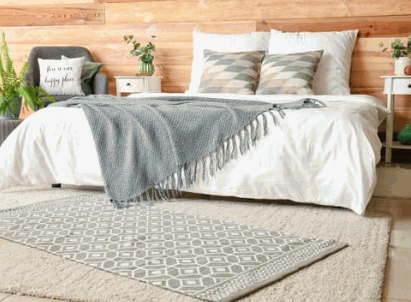 What Makes A Good Bedroom Carpet?
When searching for the perfect bedroom carpet, it is important to consider certain factors that will ensure both comfort and durability. Here are some key criteria to keep in mind:
Softness and texture: Look for carpets made from plush materials such as wool or nylon for a cozy and comfortable feel underfoot.
Noise reduction: Opt for carpets with excellent sound absorption properties to create a peaceful and tranquil sleeping environment.
Stain resistance: Choose carpets treated with stain-resistant technology to protect against spills and accidents.
Easy maintenance: Select carpets that are easy to clean and maintain, keeping your bedroom looking fresh and inviting.
Durability: Make sure to choose a carpet with a high-quality construction that can withstand regular foot traffic and last for many years.
What Material Is Best For Bedroom Carpet?
When deciding on the ideal material for a bedroom carpet, it is important to consider factors such as durability, comfort, and aesthetics.
Natural materials like wool provide warmth, softness, and excellent insulation properties. For those seeking a synthetic option, nylon is a popular choice known for its durability and resistance to stains. Polyester carpets are a soft and affordable option, available in a variety of colors. Olefin, also known as polypropylene, is a great choice for bedrooms with high foot traffic as it is resistant to moisture and stains.
Ultimately, the best material for a bedroom carpet will vary based on personal preferences and specific needs.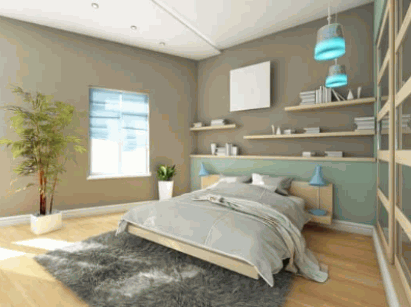 What Color Carpet Is Best For A Bedroom?
When deciding on the perfect carpet color for a bedroom, there are a few important factors to consider.
Firstly, think about the overall ambiance you want to create. Light-colored carpets, such as beige or pastel shades, can make a small room feel more spacious and bright.
On the other hand, darker colors like navy or charcoal can add a cozy and warm feel to larger bedrooms.
Additionally, take into account the existing decor and furniture in the room and choose a carpet color that complements the color scheme and style.
Lastly, consider personal preferences and the desired mood or atmosphere you want to create in the bedroom.
What Size Carpet Is Best For A Bedroom?
The ideal size of a bedroom carpet is determined by the room's dimensions and furniture layout. It is crucial to select a carpet that not only fits the space perfectly but also enhances the overall design of the room. Typically, the carpet should be big enough to accommodate the bed and other furniture while leaving a border of exposed flooring around the edges. This creates a harmonious and visually pleasing appearance. Furthermore, for added comfort, it is advisable to have a carpet that extends beyond the bed, providing comfortable steps when entering and exiting the bed.
Discover: Dressing Table Ideas For Bedroom
What Are The Benefits Of Having A Carpet In The Bedroom?
When it comes to decorating a bedroom, one of the key elements that can greatly impact the overall look and feel is the choice of flooring. While hardwood floors and tiles may be popular, carpets offer a unique set of benefits that cannot be overlooked. In this section, we will dive into the various advantages of having a carpet in the bedroom. From its soft and comfortable texture to its ability to reduce noise and add style, we'll explore why a carpet may be the best choice for your bedroom.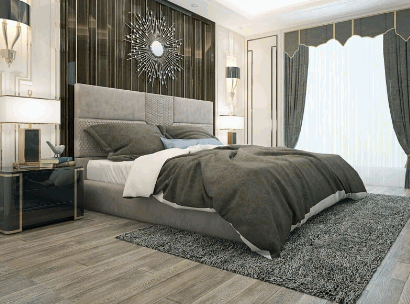 1. Soft And Comfortable
A plush and cozy bedroom carpet can greatly enhance the overall comfort of the space. Here are some steps to help you achieve this:
Choose a carpet with a dense pile for a soft and luxurious feel underfoot.
Consider selecting a carpet with added cushioning or a thicker underpad for extra comfort.
Opt for natural fibers like wool or cotton, as they tend to be softer and more comfortable compared to synthetic materials.
Ensure that the carpet is properly installed and stretched to avoid any lumps or uneven areas that can reduce comfort.
Maintain the carpet regularly by vacuuming it to keep it soft and plush.
2. Provides Warmth
A bedroom carpet provides warmth and insulation, creating a cozy and comfortable environment. Here are some steps to consider when choosing a carpet that provides warmth:
Material: Opt for carpets made from wool or nylon, as they have higher insulation properties.
Thickness: Choose a carpet that provides warmth by having a thick pile, as it helps to retain heat and create a warmer feel.
Underlay: Install a good quality underlay, as it adds an extra layer of insulation and cushioning.
Color: Darker colored carpets tend to absorb more heat, making the room warmer.
Maintenance: Regularly clean and vacuum the carpet to keep it in good condition and maintain its insulation properties.
3. Reduces Noise
Reducing noise in the bedroom can create a peaceful and relaxing environment. Here are steps to achieve a quieter space:
Choose a thick carpet with a dense pile to absorb sound waves.
Add a high-quality underlay to provide additional noise insulation.
Consider installing soundproofing materials on walls and ceilings to effectively reduce noise.
Place heavy curtains or blinds to minimize external noise.
Fact: According to a Home Advisor, carpeted floors can reduce noise by up to 50% compared to hard flooring surfaces.
4. Adds Style And Design
Adding a carpet to your bedroom not only provides comfort but also enhances the style and design of the space. Here are some ways a bedroom carpet adds style and design:
Colors and Patterns: Choose a carpet that complements the color scheme and decor of your bedroom. Opt for patterns or textures that add visual interest and create a focal point.
Coordinated Look: A well-chosen carpet can tie together the different elements in the room, such as furniture, curtains, and bedding, creating a cohesive and harmonious look.
Texture and Depth: Carpets with different textures, such as plush or textured carpets, add depth to the room and create a more luxurious and inviting ambiance.
Statement Piece: A unique or bold carpet can act as a statement piece in the bedroom, becoming the centerpiece of the room's design and adding personality and flair.
By considering the style and design aspects of a bedroom carpet, you can enhance the overall aesthetic and appeal of your bedroom.
What Are The Different Types Of Bedroom Carpets?
When it comes to choosing the perfect bedroom carpet, there are a variety of options to consider. Each type of carpet has its unique characteristics and benefits. In this section, we will discuss the different types of bedroom carpets, including plush, Berber, frieze, and textured carpets. By understanding the features and qualities of each type, you can make an informed decision on which carpet is best suited for your bedroom.
1. Plush Carpets
Plush carpets are a luxurious choice for a bedroom, providing a soft and comfortable surface to walk on. When selecting a plush carpet for your bedroom, follow these steps for the best results:
Consider the room's function: Determine how the bedroom will be used to ensure the plush carpet is suitable.
Choose the right material: Look for high-quality fibers like nylon or wool when searching for plush carpets, as they provide both durability and comfort.
Take into account personal style: Select a plush carpet in a color and texture that complements your bedroom decor.
Consider maintenance and durability: Make sure the plush carpet is easy to clean and resistant to wear and tear.
By following these steps, you can find the perfect plush carpet for your bedroom, creating a cozy and luxurious atmosphere.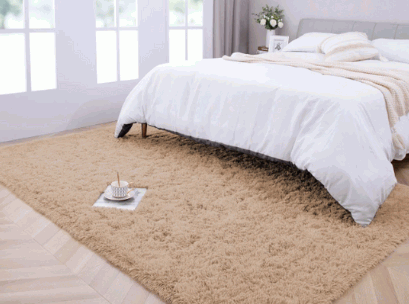 2. Berber Carpets
Berber carpets are a popular option for bedrooms due to their durability and unique style. When choosing a Berber carpet for your bedroom, consider the following steps:
Decide on the color and pattern that complements your bedroom decor.
Choose the right fiber material, such as wool or nylon, based on your budget and desired level of softness.
Consider the density and pile height of the Berber carpet, as it affects comfort and longevity.
Ensure proper installation by hiring a professional to avoid any issues with the carpet's appearance or longevity.
Remember, regular maintenance, such as vacuuming and immediate stain treatment, will help prolong the life of your Berber carpet and keep it looking its best.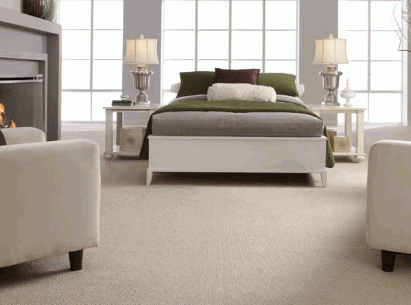 3. Frieze Carpets
Frieze carpets, renowned for their durability and textured appearance, are a popular choice for bedrooms. With their tightly twisted fibers, they provide a cozy and comfortable feel underfoot. Additionally, frieze carpets are highly resistant to stains and foot traffic, making them perfect for high-traffic areas like bedrooms. Available in a variety of colors and patterns, they can effortlessly complement any bedroom decor. The long fibers of frieze carpets also aid in hiding dirt and wear, making them a low-maintenance option. So, if you're in search of a stylish and long-lasting carpet for your bedroom, consider the benefits of frieze carpets.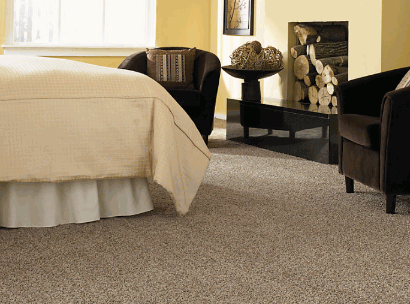 4. Textured Carpets
Textured carpets are a popular choice for bedrooms due to their unique appearance and practicality. These carpets feature a textured surface that adds depth and interest to the room. The texture also helps to hide footprints and vacuum marks, making them ideal for high-traffic areas. Additionally, textured carpets provide a soft and comfortable feel underfoot, enhancing the overall comfort of the bedroom.
When selecting a textured carpet, it is important to consider factors such as the type of fiber, such as nylon or wool, as well as the pile height and density. Ultimately, the best-textured carpet for your bedroom will depend on your style and preferences.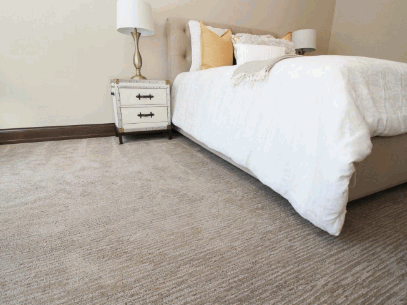 How To Choose The Best Bedroom Carpet?
When it comes to creating a comfortable and inviting bedroom, the right carpet can make all the difference. But with so many options available, how do you choose the best bedroom carpet for your space? In this section, we'll discuss the key factors to consider when selecting a bedroom carpet. From the room's function to your style, we'll cover everything you need to know to make an informed decision. So let's get started and find the perfect carpet for your bedroom.
1. Consider The Room's Function
When selecting a bedroom carpet, it is crucial to take into account the purpose of the room to ensure it meets your specific needs. Here are some steps to follow:
Determine the primary use of the room. Is it a master bedroom or a guest room? Will it primarily be used for relaxation or as a workspace?
Consider the amount of foot traffic the room will receive. High-traffic areas may require a more durable and stain-resistant carpet.
Think about the overall ambiance you want to create. Do you prefer a cozy and warm atmosphere or a more sleek and modern look?
Take into account any specific requirements or preferences, such as noise reduction or hypoallergenic materials.
By carefully considering the function of the room, you can select a bedroom carpet that complements your lifestyle and enhances the overall comfort and style of the space.
2. Choose The Right Material
When selecting the perfect material for a bedroom carpet, it's important to follow these steps:
Assess your needs: Consider the level of foot traffic in the bedroom and the desired level of comfort.
Explore carpet options: Choices include nylon, polyester, wool, and natural fibers such as sisal or jute.
Consider durability: Nylon is known for its strong durability, while wool offers natural resilience.
Evaluate maintenance: Synthetic fibers are generally easier to clean and maintain.
Weigh cost: Set a budget and compare prices for different materials.
Review aesthetic preferences: Take into account the desired look and feel of the bedroom.
By following these steps, you can confidently choose the right material for your bedroom carpet that meets all of your needs and preferences.
3. Take Into Account Personal Style
When selecting a bedroom carpet, it is essential to consider your style to ensure it complements the overall aesthetic of the room. Here are some steps to follow:
Take note of the existing color scheme and decor of the room.
Consider the desired ambiance – a neutral carpet can create a calming atmosphere, while a bold color or pattern can add a touch of personality.
Evaluate the texture of the carpet – a plush carpet can create a cozy and luxurious feel, while a low-pile carpet may be more practical in high-traffic areas.
Take into consideration your personal preferences and lifestyle – if you have pets or young children, a stain-resistant and easy-to-clean carpet may be a better option.
Ultimately, selecting a bedroom carpet that reflects your style will help create a comfortable and visually appealing space.
4. Consider Maintenance And Durability
Considering maintenance and durability is crucial when selecting a bedroom carpet. Here are the important steps to follow:
Choose a carpet material known for its durability, such as nylon or polyester.
Consider the carpet's maintenance requirements and select one that fits your lifestyle. For instance, if you have pets or young children, a stain-resistant and easy-to-clean carpet would be a suitable choice.
Take into account the carpet's construction and pile height. Generally, a shorter pile height is easier to maintain and less likely to show wear and tear.
Consider the manufacturer's warranty. A longer warranty period indicates that the carpet is expected to last longer.
Regularly clean and maintain your carpet by vacuuming it at least once a week and promptly addressing any stains.
What Are The Tips For Maintaining A Bedroom Carpet?
Proper maintenance is key to keeping your bedroom carpet in pristine condition. In this section, we will discuss the top tips for maintaining a bedroom carpet. From regular vacuuming to professional cleaning, we will cover all the essential steps to ensure your carpet stays clean and fresh for years to come. Let's dive in and learn how to keep your bedroom carpet looking and feeling like new.
1. Vacuum Regularly
Vacuuming regularly is crucial for keeping your bedroom carpet clean and fresh. Follow these steps to ensure proper cleaning:
Start by removing any small objects or debris from the surface of the carpet.
Choose the appropriate vacuum attachment for your specific carpet type.
Vacuum in multiple directions to thoroughly clean the carpet.
Pay extra attention to high-traffic areas and spots that are prone to dirt and stains.
Use slow and steady movements to allow the vacuum to effectively remove dirt and dust.
Regularly empty the vacuum bag or canister to maintain optimal suction power.
Consider using a vacuum cleaner with a HEPA filter to trap allergens and improve the quality of indoor air.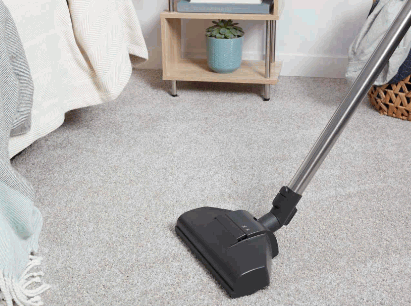 2. Spot Clean Stains Immediately
To effectively spot clean stains on your bedroom carpet, follow these steps:
Act quickly: As soon as you notice a stain, address it immediately to prevent it from setting into the carpet fibers.
Gently blot: Use a clean cloth or paper towel to gently blot the stain, absorbing as much of the liquid or substance as possible.
Avoid rubbing: Rubbing the stain can push it deeper into the carpet and spread it further. Instead, blot the stain in a gentle dabbing motion.
Use a carpet cleaner: Apply a small amount of carpet cleaner specifically designed for spot cleaning. Follow the instructions on the product and test it on a small, inconspicuous area of the carpet first.
Blot again: After applying the carpet cleaner, blot the stain again to lift it from the carpet fibers.
Rinse and dry: Rinse the area with clean water to remove any residue from the carpet cleaner. Blot the area with a dry cloth or towel to remove excess moisture.
Avoid walking on the area until it is completely dry to prevent further staining or damage.
Prompt action in spot-cleaning stains not only helps maintain the cleanliness and appearance of your bedroom carpet but also prevents the stains from becoming permanent and more difficult to remove. By taking immediate action, you can keep your carpet looking fresh and extend its lifespan.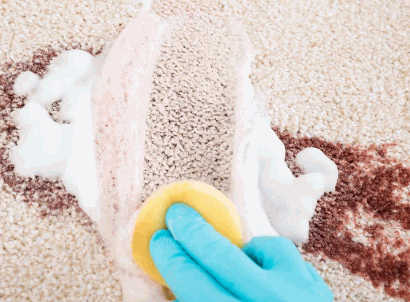 3. Use Carpet Protector
To protect your bedroom carpet and extend its lifespan, consider using a carpet protector. Here are some steps to follow:
Clean the carpet: Vacuum and remove any dirt or debris before applying the carpet protector.
Choose the right protector: Select a carpet protector specifically designed for your carpet type and follow the manufacturer's instructions.
Prepare the area: Move furniture and objects off the carpet to ensure even application.
Apply the protector: Spray or apply the protector evenly across the carpet surface, following the product instructions.
Allow drying time: Let the carpet protector dry completely before walking on it or replacing furniture.
Maintain regularly: Reapply the carpet protector periodically to maintain its effectiveness and keep your bedroom carpet protected.
Using a carpet protector will help prevent stains, spills, and wear, keeping your bedroom carpet looking fresh and clean.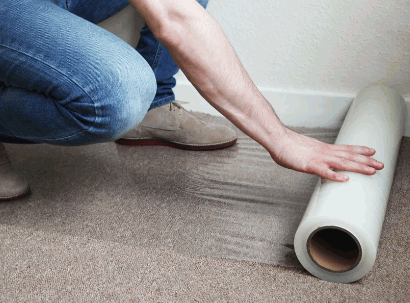 4. Get Professional Cleaning Annually
To maintain your bedroom carpet in top condition, it is crucial to schedule professional cleaning services once a year. Follow these steps to make the most out of this service:
Research reputable carpet cleaning companies in your area.
Contact the chosen company to schedule an appointment.
Prepare your bedroom by removing any furniture or objects from the carpeted area.
On the scheduled day, the professionals will arrive and assess the condition of your carpet.
They will then use specialized equipment and cleaning solutions to deep clean your carpet.
After the cleaning process is complete, allow the carpet to dry thoroughly before placing the furniture back.
Consider applying a carpet protector to prolong the cleanliness and lifespan of your carpet.
Lastly, maintain regular vacuuming and spot-clean any stains immediately.
By following these steps and getting professional cleaning annually, you can ensure that your bedroom carpet remains fresh, clean, and in great condition for years to come.