Leather handbags are classic and luxurious. Vintage leather bags have more charm, with their special history and craftsmanship. Taking care of these treasures is key. Here, we uncover tips to clean vintage leather handbags and keep their beauty forever.
Identify the type of leather first. Different kinds need different cleaning methods, like full-grain, top-grain, or suede leather. Use a mild cleanser or saddle soap made for delicate leather.
Test the cleanser on a tiny unseen area of the bag. See if it's ok with the leather and won't cause damage or discoloration. Use a soft cloth or sponge to apply the cleanser in circular motions. Don't be too rough – the surface is delicate.
After cleaning, dry the handbag with a cloth. Avoid sunlight or using heat, like a hairdryer. Instead, let it air dry in a well-ventilated place. This will stop the leather from warping or cracking.
To protect and revive vintage leather handbags, apply a quality leather conditioner. This will restore moisture and sheen. Put a little on a cloth or sponge and massage it into the leather in circles. Let it absorb, then buff off any extra with a cloth.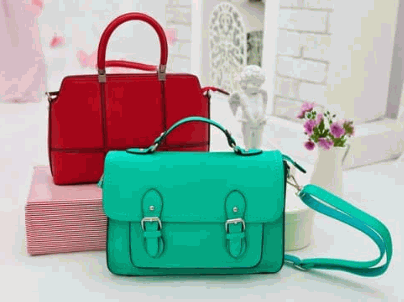 Gather Necessary Materials
When cleaning vintage leather handbags, it's important to have the right tools. Here's what you need to gather:
Soft-bristled brush – to remove dirt and debris without damage.
Mild soap or leather cleaner – suitable for the type of leather. Avoid harsh chemicals.
Distilled water – impurities in tap water can stain or damage the bag.
Soft microfiber cloth – gentle enough to not scratch or leave lint.
Leather conditioner – helps restore moisture and suppleness.
Unique details are key. Follow manufacturer or expert recommendations.
Pro Tip: Test cleaning products on an inconspicuous area first.
Delve into: How To Clean A Vintage Leather Jacket
Preparing The Leather Handbag
To properly prepare your vintage leather handbag for cleaning, follow these steps with the following sub-sections as solutions: Identify the type of leather, test the ideal cleaning solution, remove any loose dirt and dust, and treat any stubborn stains or spots.
Identify The Type Of Leather
Leather goods come in many forms. It's important to know the kind of leather used before prepping a leather handbag. By understanding the characteristics of different leathers you can choose the best care approach. Take a look at the table below for a breakdown of common types of leather used in handbags.
| Leather Type | Description |
| --- | --- |
| Full-grain Leather | Highest quality leather with a natural grain pattern. Needs minimal treatment. |
| Top-grain Leather | Slight corrections with a smooth finish. Coated for extra protection against stains. |
| Corrected-grain Leather | Heavily processed with an artificial grain pattern on the surface. |
| Split Leather | Made from the inner layers of a hide. Not as durable as full or top-grain. |
| Genuine Leather | Refers to any product made from animal hide. Quality is unpredictable. |
Variations like aniline and semi-aniline finish for full-grain and top-grain leathers exist. These variations affect the appearance, feel, and maintenance needs of the leather.
Learning about leather types and their features is interesting. People have used animal hides to make clothing and accessories for centuries. Tanning and processing techniques have improved over time, leading to more leather options today.
By being aware of these types of leather and their qualities, you can confidently treat and maintain your leather handbag. Remember that each type requires its own care to ensure a long life and keep its natural beauty.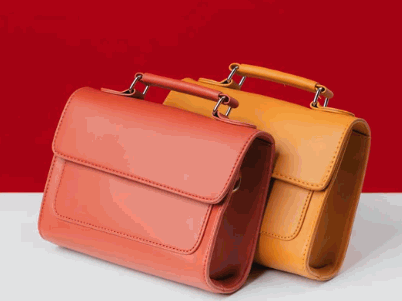 Test The Cleaning Solution
It's important to test your cleaning solution on an inconspicuous area of your leather handbag. Avoid any potential damage! Here's a guide:
Find a hidden spot: Bottom or inside pocket.
Apply a small amount: Use a clean cloth or cotton swab. Don't saturate it.
Check for color change: Let it sit for a few minutes. Look out for discoloration.
Blot gently: Use a clean cloth or paper towel. Note any color transfer.
Check texture: See if there are changes in texture or stiffness.
Evaluate results: Check the appearance and condition of the tested spot.
Each leather product may react differently, so testing is very important.
Remove Loose Dirt And Dust
Dust and dirt can damage leather over time, so it's important to remove them from your handbag. Here's a simple guide:
Gently pat the surface with a soft cloth or brush.
Wipe down the handbag with a damp cloth, and wring out any excess water.
For stains, create a mild soap and warm water solution and lightly scrub the area with a cloth or sponge, being careful not to use too much force.
After cleaning, use a dry cloth to remove moisture and let the handbag air-dry before storing it.
Different types of leather may need special cleaning methods or products. Check the manufacturer's instructions or get professional advice.
Take care of your handbag to preserve its appearance and prolong its life. Remove loose dirt and dust regularly and give your beloved companion the attention it deserves!
Treat Stains And Spots
Treating stains and spots on a leather handbag is essential. Follow this 5-step guide to keep your bag looking pristine and make it last longer.
1. Identify the stain: Know what you're dealing with – water-based, oil-based, etc.
2. Blot gently: Don't rub hard, as it may spread the stain.
3. Use mild soap & warm water: Mix & use a damp cloth to wipe away the stain.
4. Dry thoroughly: Use a dry cloth and let it air dry before using it again.
5. Apply leather conditioner: Restore moisture and prevent cracking/drying.
Test any cleaning product on a small area first. Also, prevention is key – use a waterproof spray/conditioner and avoid direct sunlight/heat. Manufacturer care instructions may also help.
Did you know? Leather has been used for centuries to make durable and stylish accessories. Ancient civilizations such as Egyptians, Romans, and Greeks highly prized its luxurious feel & versatility. Today, leather handbags are still popular, showcasing both durability & timeless elegance.
Cleaning The Leather Handbag
To effectively clean vintage leather handbags, tackle the task of cleaning the leather by applying the cleaning solution. Next, use a soft cloth or brush to delicately treat the surface of the bag. Finally, address the interior of the handbag, ensuring a thorough cleaning.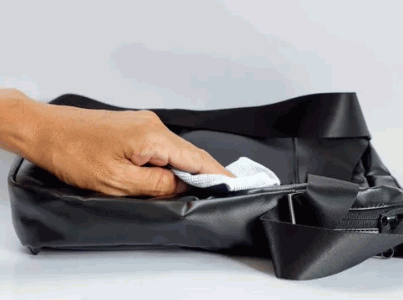 Applying The Cleaning Solution
Clean your leather handbag like a pro! Follow these steps:
Mix mild soap with warm water in a bowl.
Use a soft cloth or sponge. Don't let it get too wet.
Gently wipe the bag. Don't rub too hard.
Dab any stains with the damp cloth.
Dry with a towel when done.
Using A Soft Cloth Or Brush
Give your leather handbag some TLC to keep it in pristine condition! A soft cloth or brush is all you need to keep it looking good. Start by wiping off any dust or dirt. For stubborn stains, use a lukewarm cloth and rub in circles. Grease and oil? Sprinkle on some cornstarch or talcum powder, then brush off. To maintain suppleness, apply a small amount of leather conditioner.
When not in use, store away from direct sunlight and extreme temps. Now that you know what to do, don't wait any longer! Take care of your handbag for years of beauty. Keep it looking brand new – don't miss out!
Cleaning The Interior Of the Handbag
Empty your handbag. Give it a good shake.
Clean the inside with a soft cloth or mild detergent.
Leave your bag open. Let it dry before using it again.
Additionally, clean your wallet and any other compartments in your bag. To keep it fresh, use a fabric refresher spray.
Conditioning And Protecting The Leather
To condition and protect the leather of vintage leather handbags, follow these steps. Apply leather conditioner to restore moisture and flexibility. Buff and polish the leather to enhance its shine and smoothness. Finally, apply a leather protector to create a barrier against stains and moisture.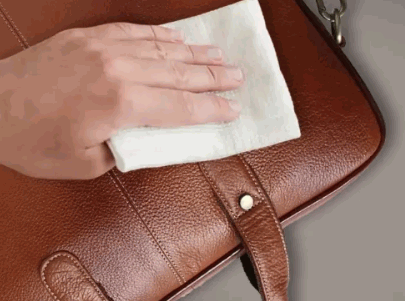 Applying Leather Conditioner
Clean your leather with a mild soap or special cleaner. Use a soft cloth or sponge to get rid of any dirt/stains. Take a lint-free cloth and apply a small amount of conditioner. Rub in circles to spread the conditioner over the leather.
Focus on one section at a time. Let the conditioner sit for a couple of minutes. Gently buff the leather with a dry cloth to remove the excess conditioner. Repeat this process regularly to keep your leather looking awesome.
Store the conditioned leather in a cool, dry spot away from direct sunlight. It'll help to preserve the quality and stop it from drying/cracking. Different leather may have different conditioning needs, so always check the product label or manufacturer's instructions.
Test the conditioner on an unnoticeable part of the leather before applying it all over. This will guarantee it doesn't cause any discoloration/damage.
Buffing And Polishing The Leather
Buffing and polishing the leather gives it a great look and increases its lifespan. Here's a 6-step guide to do it right:
Clean it with a mild soap and water solution.
Rub a bit of leather conditioner onto a clean cloth.
Let the conditioner sink in, then buff using a soft, dry cloth.
Move the cloth in circles, applying light pressure to remove excess conditioner and shine.
For tough spots, use a leather-specific cleaner or mild solvent with a soft-bristled brush.
Let the leather completely dry before using or applying other products.
Also, don't overdo it with conditioning – too much moisture can harm the leather.
Keep it away from direct sunlight and extreme temperatures to preserve its look.
Isn't it cool that the Egyptians used plant tannins from tree bark in leather production (source: National Geographic)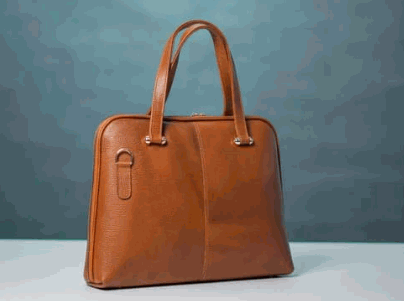 Applying Leather Protector
Shield your leather goods! For best results, use a leather protector.
Utilize a mild cleaner and soft cloth to clean the leather.
Put a smidge of leather protector onto a fresh, soft cloth.
Gently massage the material with the protector in circular motions.
Make sure to cover the entire area. Focus on high-wear parts.
Let the protector dry before you use or store the item.
Reapply the leather protector every couple of months for optimal protection. Test the product on a small patch first.
People have long known the significance of protecting their leather. Ancient civilizations used oils and waxes to protect their items from damage. Now, with modern tech, we have specialized protectors that protect against dirt, moisture, and UV rays.
Drying And Storing The Handbag
To properly dry and store your vintage leather handbag, follow these steps for effective care. First, we'll cover drying the handbag, ensuring it's done safely and without damaging the leather. Then, we'll discuss the importance of storing the handbag properly, preserving its quality, and preventing any potential harm.
Drying The Handbag
Clean your handbag properly and then make sure it is completely dry. Here is a 5-step guide:
Empty your bag.
Pat the inside and outside with a clean cloth to remove wetness.
Put it in a ventilated area, away from the sun or heat. Allow it to dry naturally.
Place a small fan nearby or use a hairdryer on low heat (keep it 6 inches away).
When it is dry, store it in the right way.
Different materials may require different drying methods. For example, leather handbags must be treated with leather conditioner after drying.
Why these steps work:
Emptying lets air flow and prevents items from getting damaged.
Patting with cloth absorbs water without harming delicate materials.
Air drying avoids shrinkage or color fading due to heat.
Fan/hairdryer speeds up drying and no damage due to temperature.
Storing a dry bag reduces mold and bad smells.
Follow these steps and take care when drying to keep your handbag in top condition for years.
Storing The Handbag Properly
Storing handbags carefully is essential to keep them in good shape and make them last longer. Here are some tips to help:
Clean first: Before storing your handbag, make sure it's properly cleaned. Use a mild cleanser and a soft cloth to gently clean the surface.
Stuff it: To maintain the shape of your bag, fill it with tissue paper or bubble wrap. Avoid using newspaper as the ink may transfer.
No direct sunlight: Store your handbag in a cool, dry place away from direct sunlight. Sunlight can cause the color to fade and damage the material.
Use dust bags: Many luxury handbags come with dust bags for storage. If not, use a soft cotton pillowcase or a breathable fabric bag.
Don't hang: Hanging your handbags for long periods can strain the straps or handles. Lay them flat or keep them on a shelf upright.
Rotate: If you have multiple handbags, rotate their usage regularly. This prevents excessive wear and tear on one piece.
Remember that proper storage not only keeps the handbag looking good but also helps it last longer. Give your bags the love they deserve and start using these tips now!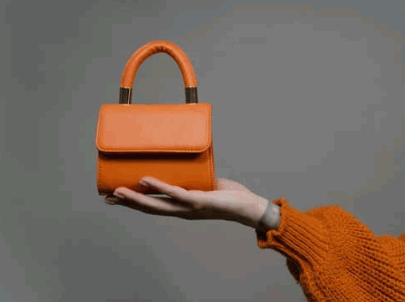 Conclusion
Vintage leather handbags may lose their shine with age. Cleaning them properly can restore their beauty and keep them in good condition. To make sure your collection stays in tip-top shape, use gentle techniques and the right products.
Start by wiping off any dirt and debris with a soft cloth or brush. Then, mix mild soap with warm water and wipe the leather gently with a sponge or a cloth. Avoid soaking the leather or scrubbing too hard, as this could ruin the color or damage it.
For tough marks, put a small amount of leather cleaner on a clean cloth and rub it into the area in circles. Before using, test the cleaning product on a small, hidden part of the bag to make sure it won't cause any bad effects.
Let the bag air dry in a cool, well-ventilated place away from direct sunlight or heat. Don't use a hairdryer or place the bag near radiators, as too much heat can cause cracks.
For extra protection, apply a suitable leather conditioner every few months. This will keep the leather from drying out and forming cracks.
Taking care of your vintage leather handbags preserves their beauty and value. With regular cleaning and maintenance, these timeless accessories will stay with you for many more years.